The latest film by Audrius Stonys "Woman and the Glacier" – at the famous documentary film festival IDFA
2016 November 1 d.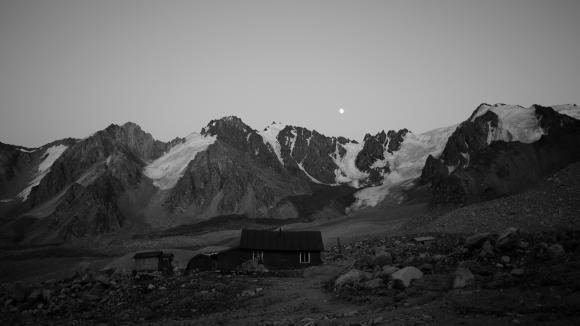 This autumn is special for the documentary filmmaker Audrius Stonys. For the merits for Lithuanian culture and arts, community building, personal responsibility in the development of cultural and spiritual environment, the Director has received the highest award of the Ministry of Culture – the honorary sign "Bring your light and believe". At Vilnius Documentary Film Festival, for the first time in Lithuania, the anniversary retrospective of A. Stonys' work was organized, which had been already shown in Switzerland, Russia, France, Israel, the Czech Republic, Germany, USA, Belgium, Spain, Turkey, Colombia, Uruguay and Italy.
But the greatest news is that one of the biggest and most prestigious documentary film festivals in the world – International Documentary Film Festival Amsterdam IDFA invited to participate the director's latest film "Woman and the Glacier", which tells the story of a Lithuanian woman who has been living for more than thirty years in 3,500 meters high Tian Shan mountains, by Tuyuksu Glacier, in Kazakhstan.
A. Stonys: "It is very strange that a Lithuanian woman explores the ice on the remote Tian Shan, at the world's end, without any contact with the world. The scientist Aušra, morning and night, winter and summer, living in a wooden hut in the high mountains next to an enormous glacier, for many years makes measurements, which she sends to the monitoring centre in Almaty. She has dedicated all her life to the studies of a glacier in Kazakhstan."
IDFA Selection Committee said that it is "impressed by the breathtaking film, enchanting story and beautiful cinematography".
IDFA is the largest documentary event in Europe, which annually attracts thousands of the best documentary filmmakers and fans in one place. The world's largest documentary film festival, organized since 1988, is visited annually by over 200 thousand viewers. This year, about 300 films will be shown at IDFA, and it is extremely gratifying to see that the film by Lithuanian filmmaker Audrius Stonys is among them. The film "Woman and the Glacier" will compete for the best medium-length documentary film, the special jury prize and the audience award.