Dreams sometimes break
2020 Septermbet 21 d.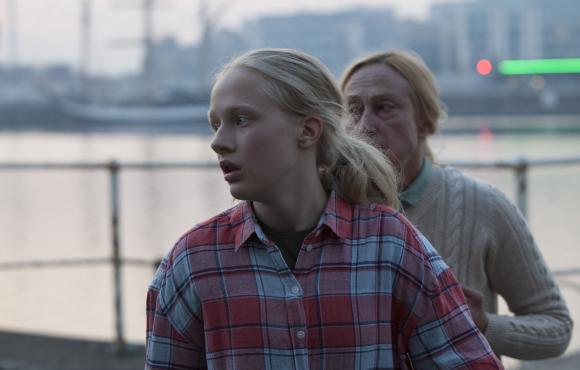 Until recently, Lithuanian cinema was criticized for avoiding to tell the stories of ordinary people and for fleeing into relative space and time. However, it took a new generation of filmmakers for stories to appear on the screens over the last few years that you would not call indifferent to the realities of the present. On the contrary, there was the economic crisis ("The Saint"), mental health ("Summer Survivors"), and the dramas of children living in the orphanage ("Sasha was Here") or the realities of the first years of Lithuania's independence ("Motherland").
Of course, socially sensitive issues served as a context for telling about the inner dramas of a person or a family, but, finally, you could already feel this context, and the great sceptics – I admit, I was among them – settled down for a while.
One of these, you could say, films close to social drama at first glance seems to be Lina Lužytė's latest drama "The Castle". Its context is emigration, and in the centre of the story is one Lithuanian family in Ireland: mother working in a fish factory Jolanta (Gabija Jaraminaitė), grandmother with severe dementia and longing for Lithuania (Jūratė Onaitytė) and the teenage daughter Monika (Barbora Bareikytė) dreaming of a singing career.
It would seem that the theme of emigration sort of expired, it is out of date, that in a few years several works of art about Lithuanian emigrants appeared, and filmmaking, which always takes a long time, is late and lost its timeliness. And we would be absolutely right if we judge relevance only from headlines in the media, where hotspots ripple like waves in the exact intervals: there was #metoo, then Corona, it was replaced by black lives matter, Belarus, and dog dramas.
Lina Lužytė proves that there are no devalued topics in art. There can only be an inability to tell them in an interesting way or bring them back to daylight in forms you never even imagined. Here, "The Castle" with all its emigration pains unfolded not with some Dardenne-like or Romanian realism greyness, but with the tragicomic tones that are characteristic of all the director's film stories and that distinguish her from the works of her peers.
In "The Castle", the main dramaturgical impetus – the attempt by teenager Monika to get by any means to a concert in the castle, to which she and her mother were invited by a mysterious man they met at a funeral, and in which even Elton John herself is said to have performed – is folded in tone that is close to a fairy tale.
To reach the dream castle, Monika, like some heroine of a fairy tale, will have to take the challenge of an obstacle course, in which she will be helped by, without knowing it, helpers – emigrants living in the same house. Adam (Andrei Ciopec), involved in shady business, will take her to steal clothes from the containers and earn some money (well, only seven euros), the nightclub bartender will allow to use the piano for rehearsals, and Polish emigrant Natalia (Martyna Peszko) will leave the keys from the apartment, which will come in handy for the idea which the girl has conceived, and it seems to her like heaven-sent.
These characters, together with her mother Jolanta's colleague Zita (Rasa Samuolytė), her husband (Rytis Saladžius) and the manager of the local Lithuanian community house (Rimantė Valiukaitė), prove that Lužytė is able to create memorable supporting characters, she doesn't leave them stranded (which still happens quite often in Lithuanian films) and organically intertwines them into the story. In some episodes, it was even more interesting to watch them than the main actors, although the role of the main character by Barbora Bareikytė is memorable, she is able to keep the viewer's attention.
Of course, the director is interested not in the ultimate goal (the castle), but in the path to it, which does not lack missteps, dramas and inner emotions, that ultimately make the main character grow and change. In the finale, Monica will understand what is really most important in life, and in one day will cross that painful line that separates the worlds of childhood and adulthood.
Lužytė tells us that not all dreams come true (Monika), that we trample on some dreams for the well-being of others (mother who abandoned her career as a musician), but it seems that it would not be possible to live without them at all. And this truth is best embodied by the silent grandmother, played by Jūratė Onaitytė, who, in the sad but light finale, will eventually have her dream of returning to her native Lithuania come true. She sang folk songs about Lithuanian throughout the film and she had never really left it, in her thoughts.
It is mainly this ability of the director to create cardinally opposite moods in one episode and offer a hopeful sigh to the viewer along with the lump of tears in the throat that is the greatest strength of "The Castle".
And even if after the screening the film you leave with an impression of a work in which, as if from a film dramaturgy textbook, everything is neatly related by causalities, and the emphases of editing and development of the idea seem too correct, while watching it I didn't feel the awkward tedium of one or another scene or monotony of the narrative, which still strikes in other contemporary Lithuanian films. And that is definitely a plus.