MoMa: Lithuanian Cinema: 1990–2009
2009 Dicember 3 d.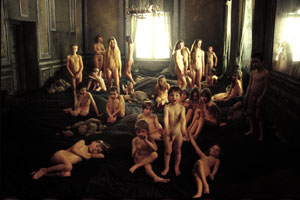 This is the first U.S. survey to explore the last twenty years of fiction and nonfiction feature and short films from Lithuania. Since the Baltic republic declared its independence from the Soviet Union in the early 1990s, Lithuanian filmmakers, unconstrained by ideology and despite limited infrastructure, have made a number of distinguished works exploring themes of identity—both
personal and national—in original, passionate, and provocative ways. Some Lithuanian filmmakers have earned international reputations, including Sarunas Bartas; Arunas Matelis, who was awarded the Directors Guild of America Best Documentary Filmmaker award in 2007 for Before Flying Back to Earth; and Jonas Mekas, whose creative and organizational activity in the U.S. has been essential to American independent filmmaking. Other filmmakers like Raimundas Banionis and the team of Romas Lileikis and Stasys Motiejunas, whose films appeared early in the "liberation" of Lithuanian cinema, deserve to be better known abroad—as do Kristina Buozyte (The Collectress) and Gytis Luksas (Vortex), both of whom are enjoying their American premieres. All films are from Lithuania and in Lithuanian with English subtitles, unless otherwise noted.
Organized by Laurence Kardish, Senior Curator, Department of Film, in association with the Tinklai International Short Film Festival, Lithuania, and its directors V.S. Panoptikumas and Arturas Jevdokimovas. Thanks to Julius Ziz.

The exhibition is supported by The Kazickas Family Foundation and by the Lithuanian Consulate General in New York.
Vortex, 2009, by Gytis Lukšas