Lithuanian cinema will start the year 2018 with a film retrospective in Paris
2017 October 12 d.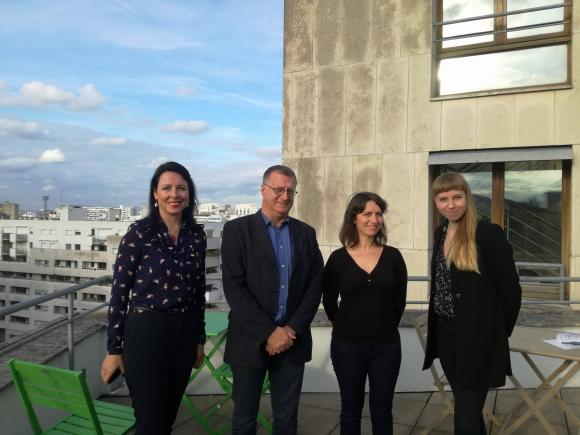 One of the largest and most significant projects of national cinema presentation in Europe will open the series of cultural events in France for the centenary of the restoration of Lithuanian State. After three years of negotiations, the agreement between the Lithuanian Film Centre, Lithuanian Embassy in France, and one of the world's largest film archives, Cinémathèque Française, based in Paris, has been concluded this week. The program of Lithuanian films will begin in January next year, and will run for almost a month. Lithuanian film retrospective will include more than 30 films, which were selected by Caroline Maleville, programmer of Cinémathèque Française. The famous French film critic Arnaud Hée described the program as amazing, diverse and worth discovering. Bright accent in it are the films by the acclaimed Lithuanian cinema artists Jonas Mekas and Šarūnas Bartas. Also, the audience will see the selection of documentaries since 1990 up to now, recent short films, animated films, Lithuanian film classics and feature films produced in the independent Lithuania.
"Presentation of this film program to the French cinema community is a great achievement and recognition of Lithuanian cinema. It is a great honour to get the attention of the prestigious French film industry. Working with programmers of the film library allowed us to take yet another look at our films, the retrospective includes several generations of filmmakers, different genres and styles. We are happy to start the year of the centenary of Lithuania in such a way," – says Rolandas Kvietkauskas, Director of the Lithuanian Cinema Centre.
"I am confident that this cooperation between the Lithuanian Film Centre and Paris film library will develop into a long-term relationship, and will open the door for the majority of Lithuanian filmmakers to present their works in this world-renowned cultural institution in the future. It's important that it is namely the cinema that starts the series of cultural events linking all areas of art for the centenary of Lithuania, which will highlight achievements of Lithuanian artists for the French cultural community, and our country will be presented primarily as a country that cherishes the exceptional art traditions, creativity and dynamics of cultural life," – said Vida Gražienė, the initiator of the project, Cultural Attaché of Lithuania in France.
The detailed program will be announced by the end of the year, after the final adjustments to the program. Lithuanian film retrospective in Paris will begin from 15 January 2018. The program is organized by the Lithuanian Cinema Centre in cooperation with the Embassy of the Republic of Lithuania in France.