The film "Bridges of Time" by Audrius Stonys – in the program of legendary filmmakers
2018 November 16 d.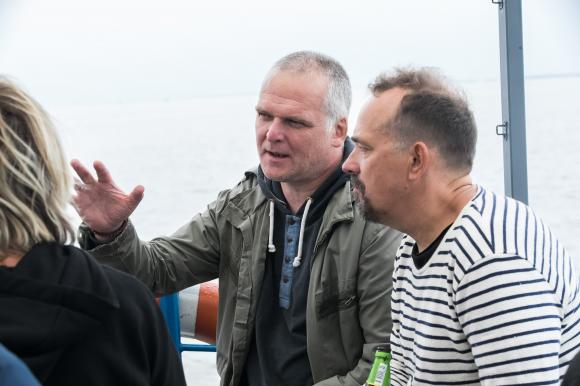 Documentary film director Audrius Stonys will present his latest film "Bridges of Time" at IDFA in Amsterdam, the most important documentary film festival in Europe. The film by the Lithuanian director, made together with Latvian director Kristine Briede, is selected for the program "Masters". The new program, which started just last year, has attracted a lot of attention from the audience. In this program, the festival presents the latest documentaries by renowned documentary auteurs. As the festival organizers say, "Masters includes films by auteurs whose work IDFA closely follows, and who have an unmistakable cinematographic signature". Last year, works by auteurs such as Frederick Wiseman, Phie Ambo, Everardo González, Agnès Varda and Joe Berlinger were presented. This year, the program of 26 films will include the latest films by Audrius Stonys, Errol Morris, Victor Kossakovsky, Nicolas Philibert, Cornelius Porumboiu, Sergei Loznitsa, Frederic Wiseman and Werner Herzog.
"It is a great honour that Lithuania is establishing itself on the world map as a country of documentary cinema in this special year of the centenary of our Independence. Our films are invited to major world festivals and are featured with world film legends. IDFA has always been the Mecca of documentary films." – says Stonys.
With his film "Bridges of Time", the director will tell the audience of the IDFA festival about the phenomenon of Baltic poetic documentary filmmaking. As he himself says, this is a film/love letter to all his teachers who taught him the language of cinema, directly or indirectly, with their films.
"Conversations and meetings with them helped me understand what documentary cinema is and why it is worth devoting my life to it. For that I will be grateful to them forever," – says Audrius Stonys.
At the documentary film festival, Audrius Stonys will give masterclasses within the program "Filmmaker Talks".
In the photo by Džoja Barysaitė: Audrius Stonys and one of the producers of "Bridges of Time", Uldis Cekulis at the festival "Baltijos banga" (Baltic Wave) in Nida, summer 2018.