The world premiere of Marat Sargsyan's film "The Flood Won't Come" took place at the Venice Film Festival
2020 Septermbet 10 d.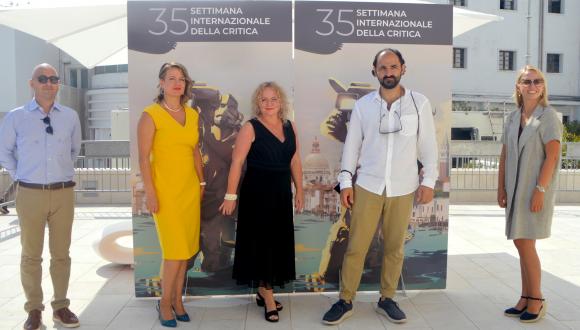 Today, 10 September, at the 77th Venice Film Festival, the world premiere of the director Marat Sargsyan's debut feature film "The Flood Won't Come" took place. The work was presented by the director himself and producer Ieva Norvilienė.
"I was very nervous before the premier. I am glad that the audience watched the film closely to the very end. But the most exciting fact is that a Lithuanian film was shown at such a prestigious festival. After the premiere, we received a lot of positive feedback and attention," said director Sargsyan directly from Venice.
At the 35th Film Critics Week this year, from almost 2,000 only 7 films were selected. The side competition program, initiated by the Italian National Film Critics Union, focuses on the discovery of young talent, to whom, after the Venice Festival, great opportunities open to reach film fans and other prestigious festivals around the world. Directors, well known to international audiences, such as Olivier Assay, Mike Leigh, Pedro Costa, Harmony Korine, Kenneth Lonergan and others have made their debut here.
Sargsyan's film "The Flood Won't Come" depicts a war-ravaged post-apocalyptic world in which several realities and many plot lines intertwine. War is the backdrop to the issues raised by the director about humanity, fragility of human life, willpower of an individual, and his helplessness.
Sargsyan's previous films – the short film "Lernavan" (2009) and the documentary "Father" (2012) – have toured many international festivals. The latter had received an award at the prestigious Visions du Réel documentary film festival.
Production of the film "The Flood Won't Come" was partially supported by the Lithuanian Film Centre, LRT, several private sponsors, and benefits from the tax incentive were used; it was produced by the company Tremora. The film is planned to be released in 2021.