Lithuanian film "Snow Shelter" received an award at Tirana International Film Festival
2020 Septermbet 28 d.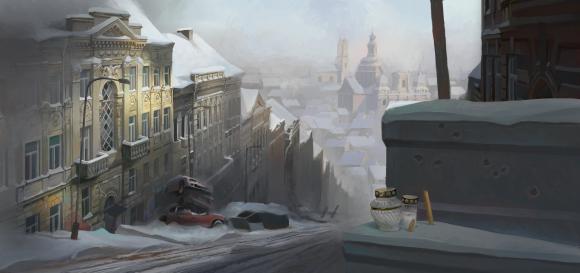 Late Friday night, the film "Snow Shelter", directed by Robertas Nevecka, was announced the winner of the Tirana International Film Festival in the Short Animation category. Members of the jury noted that "the dramatic story, dark visual world and animation technique bring out the deep feelings, fears and give you the chills..." In their view, "this beautiful and stylized animation leads us metaphorically through the difficulties and hardships of many who try to get back on their feet after difficult moments". The festival, which has been held since 2003, is one of the most important cinematic events in the Balkans.
Premiere of the "Snow Shelter", produced by the film and media centre Meno Avilys, took place at the Vilnius International Film Festival "Kino pavasaris" in March, just when the lockdown began. At that time, one of its actors, Justas Tertelis, wrote: "The short film resonates in an interesting way with today: empty cities, distrust of those you meet. Maybe it is predicting something, or maybe it is warning how far everyday life and global alienation can go." A few weeks ago, makers of the film received a Special Award at the BLON Animation and Video Games Festival.
The film depicts a harsh winter in a war-torn city. In order to create an image of distorted realism, rotoscopy was chosen for the "Snow Shelter".