An important evaluation for the film "Bridges of Time" – it won the Baltic Assembly Prize
2020 November 6 d.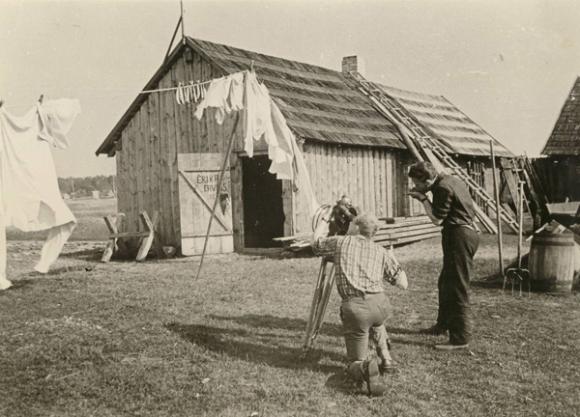 During the awards of the Baltic Assembly that took place in the Estonian Parliament, the documentary essay "Bridges of Time" directed by Audrius Stonis and Kristīne Briede won the Prize for the Arts. The members of the jury praised the film for the successful cooperation between the three Baltic countries. The film tells about Lithuanian, Latvian and Estonian filmmakers, masters of poetic documentary.
The producer of the film, Estonian Riho Västrik, came to collect the award.
"This film is a reverence to the forerunners of our cinema, and at the same time a proof that humanity existed even at the historically difficult period. Making the film was an adventure for us and a journey into a deeper learning about the classics," said Mr. Västrik.
In awarding the prize, the jury of the Baltic Assembly reasoned that the documentary "Bridges of Time" is the best example of close and remarkably fruitful cooperation between the three Baltic States.
This is evidenced by the special creative communion, which brought together well-known Lithuanian director Audrius Stonys and Latvian documentary filmmaker Kristine Briede, as well as the group of four producers: Lithuanians Algimantė Matelienė and Arūnas Matelis (Studio Nominum ), Latvian Uldis Cekulis and Estonia Riho Västrik.
Ramunė Rakauskaitė, Arūnas Matelis and Riho Västrik contributed to the screenplay along with K. Briede and A. Stonis; while Audrius Kemežys, Valdis Celmins, Joosep Matjus, Janis Šenbergs and Laisvūnas Karvelis became the cinematographers of the film.
Premiere of the "Bridges of Time" took place in 2018 at the Karlovy Vary International Film Festival. The film was awarded a prize by the Ministry of Culture of the Republic of Lithuania, and won the Golden Cup at the Shanghai International Film Festival. The film was also announced as the Lithuanian submission for the Oscars.
The Baltic Assembly is an international organization that annually evaluates the most outstanding achievements of the Baltic States in the fields of literature, arts and science.