"You Am I" Directed by Kristijonas Vildžiūnas Was Screened During a Festival in Sheffield, United Kingdom
2010 May 6 d.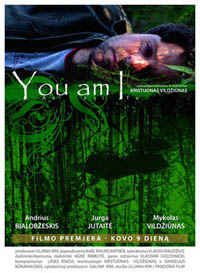 A film by Kristijonas Vildžiūnas, You Am I (2006) was screened yesterday, during the Eastern European Film Festival in Sheffield, , that takes place from April 14 to May 19.
This festival has been organised for the first time; it is supported by The British Council and The University of Sheffield. All events are free of charge.
According to the organisers, the goal of the festival is to give as much information as possible to the community about the culture of immigrants who live in Sheffield , to create a space for the representatives of various countries to meet, talk and learn about each other.
The national premiere of You Am I by Kristijonas Vildžiūnas took place in March 2006; its world premiere was during the 59th International Cannes Film Festival (17 – 28 May 2006), in the Official "Un Certain Regard" Selection. The film was shown during over 30 various international film festivals and forums. The film You Am I won the Best Baltic Feature Award at the festival Arsenals in Riga in 2006 and won the international FIPRESCI jury award.