Award winners at the festive Lithuanian Filmmakers Union evening were critic Rūta Oginskaitė, director Audrius Stonys and cameraman Jonas Tomaševičius
2011 Dicember 17 d.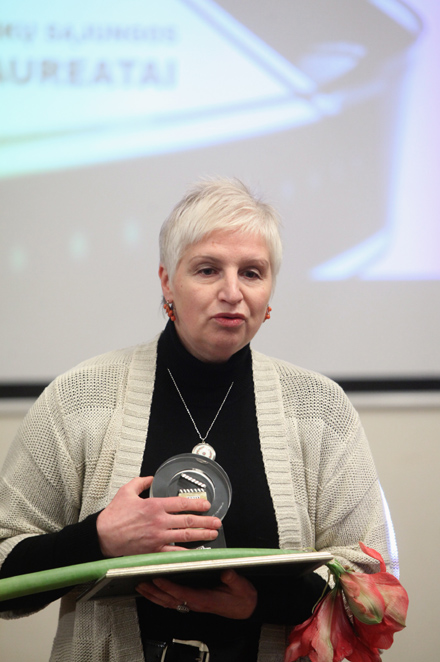 The Lithuanian Filmmakers Union presented its 2011 awards at the Lithuanian Theatre, Music and Cinema Museum .
The main prize was awarded by Kornelijus Matuzevičius, the chairman of the jury committee, to the renowned theatre and movie critic and documentary film fan Rūta Oginskaitė for her book Nuo pradžios pasaulio [From the Beginning of the World], published by Aidai, 2010. This book draws a portrait of Robertas Verba, the memorable Lithuanian originator of poetic documentation and his era.
The Filmmaker Union's certificate is designated for Audrius Stonys for the film Raminas, which he made in joint with Latvian and Georgian filmmakers. The film talks about a past, famed Georgian wrestler Ramin Lomsadze. The jury awarded Director Stonys for creative ventures and professional mastery.
The Filmmakers Union presents its awards for the 13th time.
Regina Lopienė, Director of the Lithuanian Theatre, Music and Cinema Museum, presented the award "Footprint in the history of Lithuanian cinema" during the festivities to cameraman Jonas Tomaševičius, who filmed widely popular Lithuanian films, including Jausmai 'Feelings' (directed by A. Grikevičius and A. Dausa), Herkus Mantas (directed by M. Giedrys), Skrydis per Atlantą 'Flight Across the Atlantic' (directed by R. Vabalas), Moteris ir keturi jos vyrai 'Woman and her four men[husbands]' (directed by A. Puipa) and many others.
Jonas Tomaševičius is the third artist to be awarded the symbolic brass footprint of the museum. In previous years, this award went to cameraman Jonas Gricius and to film director and this year's laureate of the National Culture and Arts award, Arūnas Žebriūnas.
Photographs - Critic Rūta Oginskaitė with her award (photo by Martynas Ambrazas)
Cameraman Jonas Tomaševičius (photo by Juozas Matonis)