Film "The Poet" by Giedrius Tamoševičius and Vytautas V. Landsbergis was voted as the best Baltic film in Tallinn
2022 November 28 d.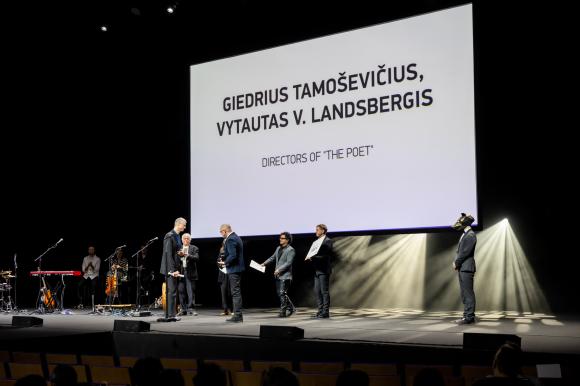 The closing ceremony of the Black Nights Film Festival took place in Tallinn. There it was announced that the jury has named the film "The Poet" by Giedrius Tamoševičius and Vytautas V. Landsbergis as the best Baltic film of the year.
In announcing the winner of this year's Baltic Film Competition, the jury said that the award goes to filmmakers who use the impressive language of cinema to tell the story of the turbulent, tense post-war period in the occupied Lithuania, when people had to make important, dramatic decisions about whom to believe and to trust.
According to Edvinas Pukšta, one of the festival's programmers and curator of the Baltic Film Competition, "The Poet" was the winner in a very competitive competition. "The jury members also recognised this. It is especially gratifying that the Lithuanian film was appreciated and understood by the jury members from Israel, Colombia and Finland, who knew little about Lithuanian history and viewed the films in the competition from completely different perspectives," says Pukšta.
The narrative film "The Poet" is based on the painful and paradoxical history of Lithuania's post-war period, which happened in the lives of two well-known Lithuanian people – a talented children's writer and a leader of the anti-Soviet resistance partisans. The film explores the fundamental Hamletian dilemma of whether to go to the forest, fight and hopefully die honourably for the freedom of your homeland, or try to survive, collaborate and become a famous Soviet writer.
"The Poet", the debut film of the duo – director Giedrius Tamoševičius and director V.V. Landsbergis, received great support from audiences and film critics immediately after its world premiere at the Tallinn Film Festival.
"Already during the festival, four very favourable reviews came out. And there will be even more after the festival, I have no doubt. Not all the films in the main competition program managed to achieve this. I believe that the victory in the Baltic Film Competition and good reviews of international critics will put more spotlight on the film," says Pukšta.
The production of the film was funded by the Lithuanian Film Centre under the Ministry of Culture, and Lithuanian National Radio and Television.
The film was produced by APropos studio. Producers: V. V. Landsbergis and Uljana Kim.